This week's WhatTheCraft Giveaway is sponsored by Maya of Static White's Stitchery!
Maya is totally hooking you guys up, because these items would make a perfect gift for Mother's Day!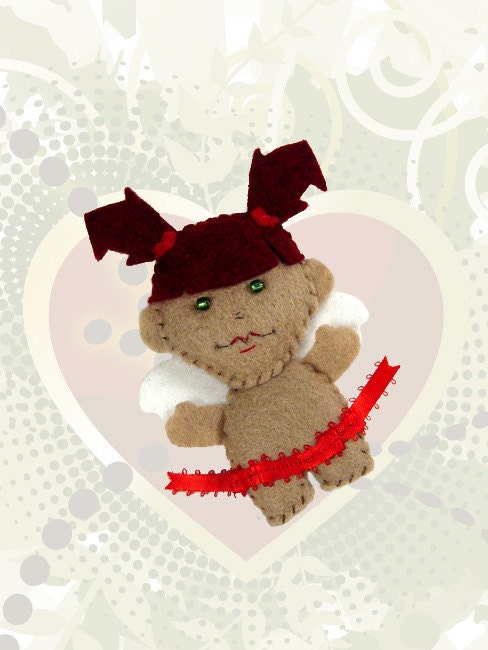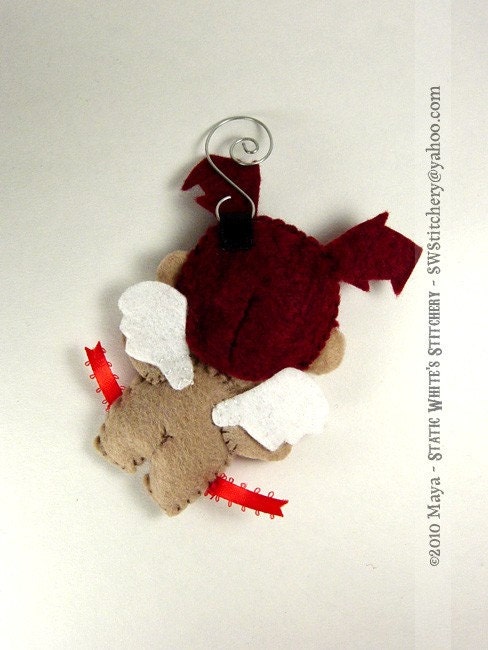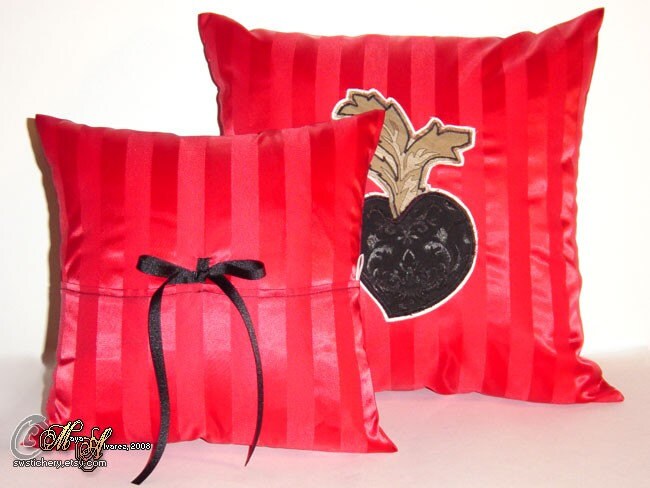 The winner of this giveaway will receive:
Red-headed Cherub Ornament
and
My Heart Burns For You Pillow Slip Cover
Valued at $47!
How long have you been doing Static White's Stitchery?
I've been stitching away full-time since the end of 2007. Before that, on and off since I was tall enough to reach the sewing machine.
Is it a full-time or part-time endeavor?
Full-time now since I don't drive and live in a town that believe sidewalks are a figment of my imagination.
Where do you find inspiration?
I find inspiration from the mass amount of books I devour, the cities I've lived in (NYC, San Francisco, San Diego, and now Nashville) and the wonderful artwork that I can thankfully experience/re-experience via the interwebs if not in person. And, of course, my crazy imagination.
What is your favorite item you've made?
Ooh, tough question! My brain keeps bouncing around a few very different items but I guess my favorite is one of my very first tries at layered applique:
If you had a million dollars, what's the first handmade item you'd buy?
I guess whatever unsold item is first on my Etsy Favorites list at the time. I'd have to have me a little shopping spree!
What is your favorite breakfast cereal?
Vanilla Almond Crunch (yum).
Want more?
Find more about Static White's Stitchery here:
Shop
Blog
Facebook
Twitter

Giveaway Info:
Static White's Stitchery is giving away a hand cut, sewn & embroidered ornament and an appliqued pillow cover.

There are lots of ways to enter, so even us lazy folk have a chance at winning!
This contest will close on April 22nd at 11:59 PM EST. I will randomly select one winner after the contest closes.
You MUST comment on this post with your entries as you complete them.
If you do not comment, I will have no way to count your entries.
You can post a separate comment for each entry or
put all of your entries into one comment.
If you have Liked/Followed/etc. WhatTheCraft in previous giveaways,
you can still use that as entry, just comment saying you have done so.
Ways to Enter
On Facebook:
Please include your Facebook name in your comment
On Twitter:
Please include your Twitter name in your comment
Other Ways:
PLEASE make sure you include a valid email address on the comment form so I can get in touch with you if you win!
This giveaway will end at 11:59 PM EST on Sunday, April 22, 2012.