This week's WhatTheCraft Giveaway is sponsored by Jen Ell's Revenge, who is offering a selection of her fabulous hair accessories to one lucky winner!
Jen Ell's Revenge specializes in Original & Recycled Rock Inspired Fashions
The winner of this giveaway will receive:
two handmade headbands with interchangeable flower and a set of skeleton hand hair clips
Valued at $20!
How long have you been doing Jen Ell's Revenge?
I started Jen Ell's Revenge in the fall of 2007 but didn't really start actually selling and doing anything with it until the beginning of 2008. This past month I opened a second shop for kid's clothing called Ankle Biter Apparel.
Is it a full-time or part-time endeavor?
Part-time…unfortunately. I work 40 hours a week at a day job, so typically during the week after work I will cut out projects for the weekend, dye items and screen print. I can easily do this stuff while watching my favorite shows and cooking dinner for my fiance, the roomie and myself. Then on the weekends my butt is typically glued in front my sewing machine.
Where do you find inspiration?
Honestly, everywhere. I love rock, tattoos, pin-ups and the imagery found in middle eastern culture. I come up with some of my best ideas while laying in bed at night.
What is your favorite item you've ever made?
I'm torn. I made both of these for a fashion show and they turned out to be so amazing on the runway.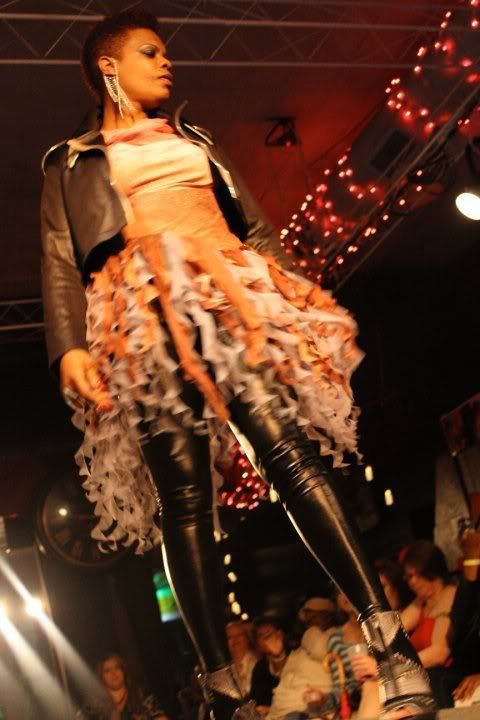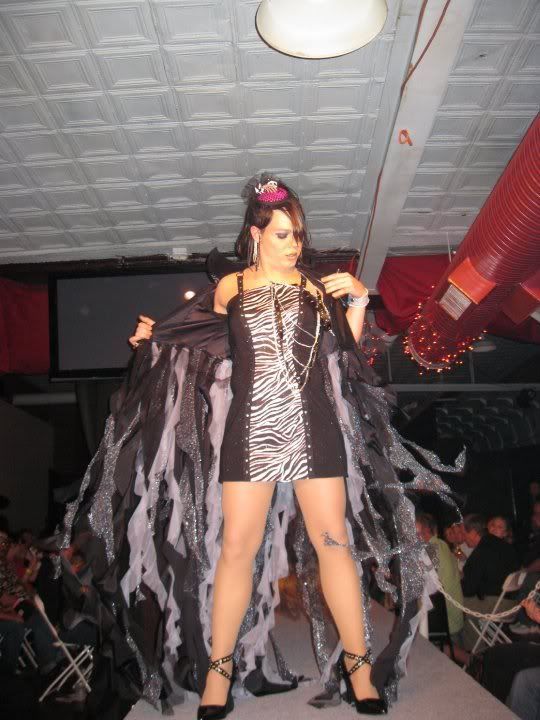 If you had a million dollars, what's the first handmade item you'd buy?
I honestly have no clue, but after a super quick perusal through the Etsy furniture section, I must say I love this bed. http://www.etsy.com/listing/51711268/iron-bed?ref=cat1_gallery_38

What is your favorite breakfast cereal?
Oops All Berries! They are so yummy!
Itching to know more?
Find more about Jen Ell's Revenge here:
Shops: www.jenellsrevenge.etsy.com & www.anklebiterapparel.etsy.com & www.jenellsrevenge.artfire.com
Facebook Fan Page: www.facebook.com/jenellsrevenge
Giveaway Info:
Jen Ell's Revenge is giving away two headbands and a set of hair barrettes.

There are lots of ways to enter, so even us lazy folk have a chance at winning!
This contest will close on December 18th at 11:59 PM EST. I will randomly select one winner after the contest closes.
You MUST comment on this post
with your entries as you complete them.
If you do not comment, I will have no way to count your entries.
You can post a separate comment for each entry or
put all of your entries into one comment.
If you have Liked/Followed/etc. WhatTheCraft in previous giveaways,
you can still use that as entry, just comment saying you have done so.
Ways to Enter
On Facebook:
Please include your Facebook name in your comment
On Twitter:
Please include your Twitter name in your comment
Other Ways:
PLEASE make sure you include a valid email address on the comment form so I can get in touch with you if you win!
This giveaway will end at 11:59 PM EST on Saturday, December 18th, 2010.