This post brought to you by Sharpie®. All opinions are 100% mine.
Have I mentioned that I love Sharpie®? My Sharpie + Contact Paper stained glass window tutorial might have given you a hint. Or my Sharpie'd Sewing Machine.
And it doesn't matter how many Sharpies I have in my collection, I can always use more!
Sharpies are perfect for marking gift tags and signing holiday cards, but why not take an extra step and use them to make something that won't get tossed in the recycling the day after Christmas?
Here's an example of some ornament charms that I made using Sharpies and shrink plastic:
Here's a quick tutorial so you can make your own!
You'll need:
shrink plastic – I used shrinky dink brand in white and frosted
Sharpie markers
scissors
hole punch
optional: Sharpie paint pens, colored pencils, glitter, sequins, etc.
Step 1
Download and print my free ornament template and trace the shapes onto the shrink plastic.
When printing, remember that your shrinky dinks will be much smaller than the print size when you're finished. If you want larger charms, you'll need to scale the design when you print!
Step 2
Decorate the ornaments with your Sharpies. This would be a perfect project to do with your kids. You can trace the shapes and let them decorate. Everyone on your Christmas list will have a personalized piece of art from your kids!
For the frosted shrink plastic, I like to draw the outline on the shiny side, but decorate the frosted side. It gives a little bit of a 3D effect.
If you're going to use paint markers, wait until after baking to decorate with those.
You can add names to the charms to serve as personalized gift tags!
Step 3
Cut out the shapes and use a hole punch to make a hole at the top of each one.
Step 4
Bake according to your shrink plastic's directions and watch them go miniature!
Step 5
Add a little extra detail with Sharpie Metallics after shrinking!
That's it! You can add string and attach them to a holiday card or gift, or hang it on a mini christmas tree. Add a jump ring and some chain for a cute holiday necklace, or earring hooks for earrings!
Sharpies would also make a great gift for anyone with a crafty streak. The 12 count package (RAINBOW!!!) and the Sharpie® Metallic permanent markers (now available in new colors!) would make great stocking stuffers!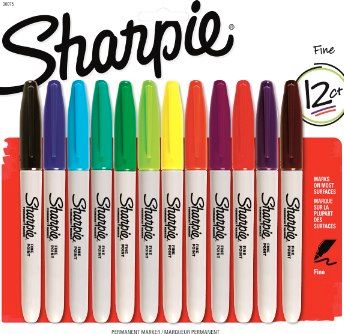 Check out the Sharpie® Pinterest board for more holiday ideas!